Hannah's Top 3 Products you NEED to Combat Your Dry "Sahara Skin"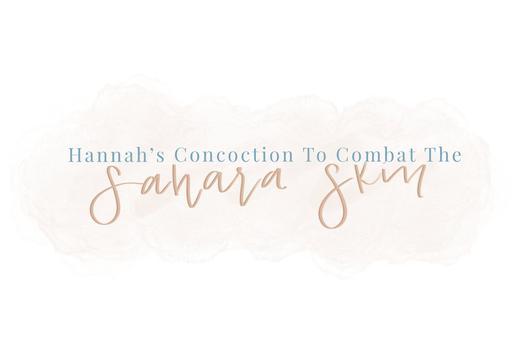 If you're reading this, chances are you're struggling with a common problem that plagues many of us... dry skin! If so, have no fear! You are in the right place. One of our favorite Rinse employees has given us her secrets to combating dry skin and we think you will find them helpful! 
Let us introduce to you, Hannah! She is one of Rinse's favorite soap-making, loud-singing, spontaneous-dancing girls! A fun fact about Hannah is that she practices sign language. We think it's pretty cool that she is expanding her ability to communicate and has chosen the sixth most common language in the U.S. to do so! It's no small feat, and we admire her dedication. Because we're so supportive, we can't complain about the fact that she has been practicing signing her funny insults here at Rinse to make everyone laugh! We love the lively, upbeat spirit that Hannah brings!
We recently asked her about her skin care regimen and what she said in plain old English is that some of her favorite Rinse goodies: "Make my skin not look like the desert." Ha! Per usual, she got a laugh out of all of us from that line! 
Hannah has had her fair share of struggles with dry skin going as far back as she can remember. Top that off with a tad of eczema and she felt like she had the perfect storm of skin issues that it seemed no amount of lotion, oil, or hydration could help. We keep thinking about her statement that her skin looked like the desert and we realized that we couldn't have said it better ourselves. We all know that feeling when our skin gets dry, flaky, scaly, and cracked. This time of year, our skin is the first to remind us that winter is on it's way!
Luckily, Hannah has shared with us her concoction to combat "Sahara Skin"!
First in the lineup is Oatbrasion Mask! A little birdy named Hannah says, "it helps get the crusteez off the skin". Yep, we can relate to that! This powdered facial mask is great to mix with some ingredients you can find in your house (like witch hazel for oily skin or facial oil for dry skin) to make a facial mask. Oatbrasion Mask actually includes ground pumice which makes it a fabulous exfoliant! Bye-bye crusteez! Finally, this mask helps to prep the skin for the products we will use afterwards. It even helps with acne prevention and is highly moisturizing!
Next up, Frankincense Roll-On! This ancient oil has made quite a name for itself throughout the years. Many of us are familiar with it from the story of the Wise Men, and we sing about it at Christmas in "We Three Kings". There are even those who say that Cleopatra used it in her beauty regimen! The fact that it has such a rich history and has stood the test of time should tell you that this stuff is legit! Hannah uses this under the eyes and on all other spots that need a little "frankincensing". So what exactly does that mean? Well, besides just being a fun phrase to say, Frankincense Oil is known for some awesome skin-loving properties such as improving tone, tightening, and brightening! It also smells amazing and provides a great aromatherapy experience!
Last up in Hanna's trifecta of perfectly hydrating products is Squalane Oil! Squalane is a powerhouse oil that increases cell elasticity, is healing to the skin, and is majorly moisturizing! Simply put, it's awesome. Squalane is derived from olive oil meaning it is gentle and effective for all skin types. Seriously, don't let the word "oil" scare you! This is perfect for "normal" skin (whatever that is) but is also great for those who have tricky skin issues including dry skin, oily skin, sensitive skin, acne prone skin... you name it, Squalane is great for it!. This oil is extremely light and absorbs quickly! By far one of Rinse's most popular products! Offered in both a 1 oz Pump Bottle or in a handy 0.35 oz Roll-On for use on-the-go!
We hope that Hannah's Helpful Hydration tips have been of value to you! Whether you find yourself in the dry skin club, or whether you have combo or even oily skin, we are sure these products will be of benefit! Give them a try and let us know what you think!